We're Getting Mutants in the MCU - The Loop
Play Sound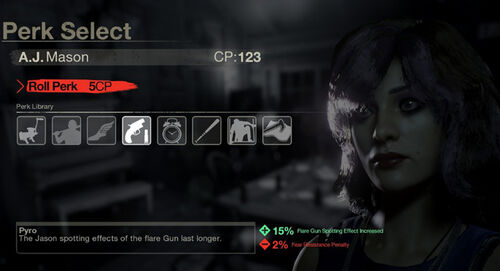 Perks are a major part of giving you an edge when playing. Every game you play will award experience points that will help you level up. As you level up, you will gain Customization Points that will allow you to unlock various perks for each of your counselors. You'll be able to equip three at a time.
The number of perks that a counselor can use is only 3 with the capabilities of holding over 30 of them.
How it Works:
Old System: The older system involved no numbers and majority of the colors were dull and where users have to spend 500 CP to Roll a Perk.
New System: Wes on Rolling Perks
Perk Ranks
Poor

Common

Uncommon

Rare

Epic

Legendary
Note: Ranks are randomly given when purchased and percentages are also randomly generated so there is no real determined concept at the moment.
Selling Perks
Within Friday the 13th: The Game there is the ability for players to actually sell their perks for Customization Points by going over to the selected Perk and by hitting the sell perk on PC or if you are on console by hitting the triangle button on PS4 or the X button on the Xbox One.
Poor: 100 CP

Common: 200 CP

Uncommon: 300 CP

Rare: 400 CP

Epic: 500 CP

Legendary: 1,000 CP
List of Known Perks
Legendary Perk Range
To see where we got the info from see this link! F13: Game Forum: Legendary Perk Bonus Stats.